Air Conditioner Accessories Installation Services IN NEW YORK, BROOKLYN, BRONX, MANHATTAN, QUEENS
Air Conditioner Accessories Installations
Here at PTAC Air Conditioning Services in NYC we realize that every installation is not equal. We survey every job before quoting you a price to ensure that you receive the right job to fit your needs. We take pride in our work and treat every installation as a custom one.
Our installations include upper window, lower window, above door, wood frame, brick frame, as well as commercial installations. We also install brackets on window air conditioning units.
We also correct improper installations, install brackets on window air conditioners. Bracket installations are all done by our team of professional installers.
Our crew of professional installers make sure that the elements of nature stay outside, and your cooling and heating stay inside your home.
ALL of our installations are guaranteed for a full year!
Installations Services We Offer
Window Unit Installs
On-Site Survey and Quote
Double Hung Windows
Bottom of Window.
Top of Window

(air conditioner must be a sleeved unit, solid units we do not install this way)

Custom or Standard.
Plexi Glass Installation.
Brackets Included

(on bottom window installs).

Winter Storage service is available.
Installations, window, wall or above doors.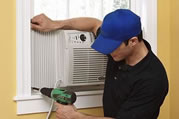 Standard Window Installation
Standard and Custom Installs are no problem for our team.
Thru the Wall Installation
On-Site Survey and Quote
Unit is either in a sleeve or rear ventilating.
Any type of construction, brick or wood.
Upsizing or downsizing an existing opening.
Proper leveling of sleeve ensures proper drainage and cooling.
Rear ventilating units require an additional sleeve.
Weatherproofed sleeve installations.
We stand behind all our installations for an entire year.
Thru the Wall Unit
Bracket Installation
Secures window Unit
Installed for bottom of window air conditioners.
Prevents chance of unit falling
Helps remove chance of receiving a violation.
Proper leveling of unit ensures proper drainage and cooling.
Approved by Insurance Companies.
Multi-adjustable bracket.
Complies with NYC code.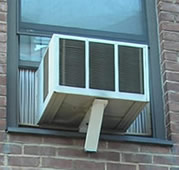 Bracket Support
We Sell and Install Brackets.
PTAC Rear Grill Replacement
Exact Fit PTAC rear grilles.
Color matching available for architectural design.
Factory authorized.
Quantity discount for builders, property managers and landlords.
Allows for PTAC to function as per factory design.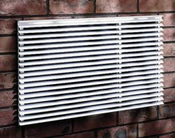 Standard Rear Grille
Sales and Installations
On Site Survey
We offer on site surveys for any looking to purchase a new unit.
We check the area in need of cooling, taking into consdieration all the heat zones.
We will explain the options that are available.
Business or Residential, it doesn't matter.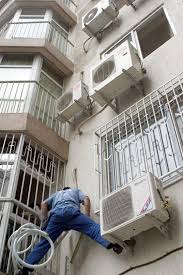 Surveys
SWe come to you to do a proper survey to best fit your needs.