Central Air Conditioning Maintenance Contract
Related Products
HVAC Maintenance Contract - HVAC Preventive Maintenance Contract
Manhattan, Bronx, Queens, Brooklyn, Staten Island, New York City, NYC
Room AC, Window AC, Thru-the-Wall AC, PTAC Units, Central Air, FCU, WSHP
PTAC Air Conditioning Services in NYC has gained an outstanding reputation as the leading Air Conditioning Contractor in NYC where people can get the best services as per their needs. It is the home of the best AC technicians who are capable of providing the most dependable HVAC service. It is good to mention that these technicians receive special training and that is why they are more serious about meeting the highest standard of air conditioning service.
100% Satisfaction Guarantee!
If you are in a serious need for an Air Conditioning Contractor or a dependable company for AC Repair and Installation in NYC then Five Borough AC will be your obvious choice in any case. The company guarantees the best work in overall air conditioning maintenance. Call the company today!
AC Installation, Repair and Maintenance Services in NYC
Maintaining your air conditioner (HVAC) unit will ensure that it's ready to properly cool your home all throughout the summer. Keeping your unit in good condition is also important for your wallet: lack of maintenance shortens a unit's lifespan by 10-15 years, meaning you'll need to buy a new one sooner. Lack of maintenance also results in a 5% efficiency loss, which results in higher energy bills.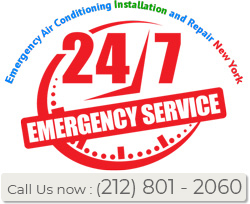 Maintenance process
Replacement of air filters
Clean evaporator and condenser coils
Remove surrounding debris
Comb coil fins
Clean clogged drains
Lubricate moving parts
Tighten electrical connections
HVAC technician should always check the following during maintenance service:
Thermostat settings
Refrigerant level
Seal between air conditioner and window frame
Capacitors
Compressor
Electrical connections
Contact PTAC Air Conditioning Services in NYC for Additional considerations and costs