Through the Wall Air Conditioner Installation NYC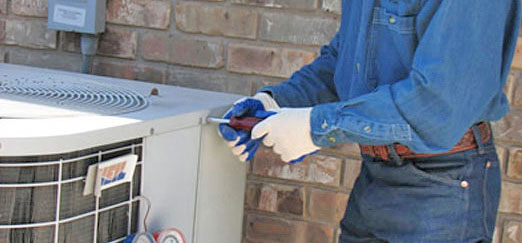 Through the wall air conditioners are like similar to window air conditioners. The only difference is that thru the wall air conditioners are placed through a hole on the wall. Like the window air conditioner, thru the wall air conditioner are electrical appliances that regulate the temperature of an enclosed space or room. This type of air conditioning device is the most common type. It is commonly found on offices and homes.
Another variant of this electrical device is the cool/heat thru-the-wall air conditioners. It has the same features of a typical air conditioner although this type of thru the wall air conditioner (or more known as "thru the wall AC") can also be used during cold season or winter. Instead of just lowering the temperature of the room, the cool/heat thru-the-wall air conditioner can also increase the room temperature depending on the level the user programs the air conditioning unit.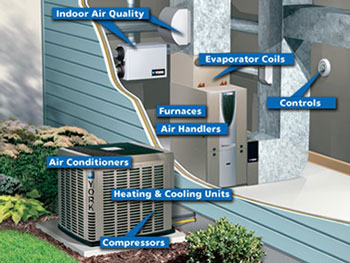 Thru the wall AC works just like any other type of air conditioning unit. It utilizes refrigeration cycle as a technique of lowering the temperature of a room. To explain further, evaporation and condensation methods are used in this system. In order to cool down a room, the air conditioning unit begins by transforming cool low pressured gas into warm and high pressured gas vapors. The warm gas then passes through a series of coils where it is then diffused with its heat scattered thereby cooling it. This will then transform the gas into liquid and is then passed through an expansion value which will then turn it into cold vapor.
The cold vapor is then again vented out through another set of coils. A blower or fan expels this cold vapor into the room. Once cold vapor is scattered into the room it will then absorb the warm air. The cold vapor is then sucked it the unit through a filter thereby cycling the whole process over again. This continuous cycle eliminates the heat from of the room. The ambient air is then cooled off for circulation.
Thru the wall ACs have vents located on both ends of the unit in order that the air inside the room is blown in and out by the blower of the unit. The outdoor vent of the air conditioner acts like a heat sink. Thru the wall AC regulate and control the temperature of the room through a control device; in most cases through an infrared remote control device.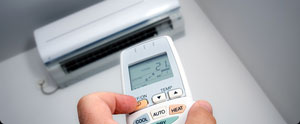 Choosing the appropriate thru the wall air conditioner is important in order for the air conditioner to be efficient. The cooling capability of a typical air conditioner is measured by BTU or British Thermal Unit. A single BTU is needed to increase the temperature of one pound of water by a degree. It is important to remember that the correct size of a thru the wall conditioner is vital in the efficiency of an air conditioner. Operating a small air conditioner on a large room is uneconomical. Always choose the appropriate size of an air conditioner based on the area of the room. Rooms with an area of 350 square feet are suitable for air conditioners that have a cooling capability of 8,000 BTUs. Remember, the larger the room the higher the BTUs.
Thru the wall ACs are more economical than central air conditioners if you only needed to cool down one or two rooms. It is always nice staying on a room that is cooled by an air conditioner, especially during hot summer days. So if you feel like having an air conditioner, why not opt for a thru the wall air conditioner. Having these appliances creates a comfortable environment both on our homes and at work.
Frigidaire wall AC:
http://www.frigidaire.com/
Frigidaire wall AC:
http://islandaire.com/
Frigidaire wall AC:
http://www.daikinapplied.com/
Frigidaire wall AC:
http://www.ice-air.com/
PTAC WALL AC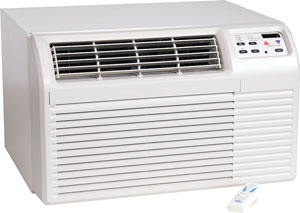 Wall Sleeves
The wall sleeves are available in a full range of wall depths and styles (Masonry and Panel Wall) all built to suite your building design and requirements.
Room Enclosures
Room enclosures are manufactured in three dimensional standards. 48" inch wide, the 52" wide standard as well as 54" oversized. The enclosures are constructed of furniture grade sheet metal coated with electrostatic deposition bonded Enamel. Includes discharge grill and control panel access doors.
New Construction and Accessory Components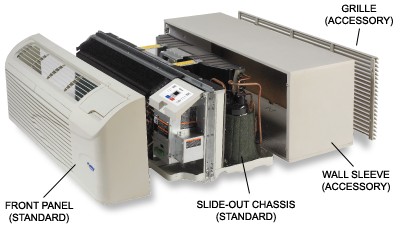 Hydronic Heat Assemblies
Call Factory for dimensions and availability.
Outside Louvers
Available in many finishes, contact factory.
Remote Wall Thermostat Options
The Simon-Aire chassis can be ordered from the factory with a wide range of remote wall thermostat controls. Consult the factory for the systems integration and controls to suite your requirements.
General description
Flush mount thermostat, fits almost all electrical boxes and also can be used with IR remote.
Applications
The FMT 24 series of thermostats are ideal for residential, office buildings, etc.
Features
24 VAC - Input
Cool, Heat pump, Electric heat, Oil, Gas
Temperature Limits
Returns to last setting after power outage.
Large display - ambient & set temperature (LCD).
Unoccupied function - leaving your home? Just press a button and economy sets will take control!!!
Easy to install - quick connector.
Specifications
Product: FMT-24 Series
Range: 45o to 88o F.
Differential: 1.2o
Load Rating: 2 Amps
Input: 24 V AC -50/60 hertz.
Wiring Connections: Screw type terminals
Material: PC/ABS
Flammability: UL 94 V-0
Dimensions: 3.25" x 5.65" x 1.3"
Weight Net: 145 g.
NEW CONSTRUCTION
PTAC accessories are manufactured in the USA. Given our local resources, we provide unmatched flexibility to serve dynamic construction schedules. Our experienced engineering team can reduce project costs through more efficient installations. Whether the project is masonry, pre-cast or panel wall construction, We are an excellent source of custom and semi-custom components to ensure the appropriate match to building and budget requirements.
REPLACEMENT & RETROFIT
Our equipment is ideal for replacing existing units with longer lasting products that can increase efficiency by as much as 30%. Our modern digital controls also offer a higher standard of efficiency to reduce energy consumption. Hotels, universities and residential customers have all benefited from our systems to curtail utility costs or qualify for energy rebates.
In addition, PTAC units are compatible with most legacy or obsolete "through the wall" equipment; Often we help customers to retrofit their old equipment installations to a standard product for reduced replacement costs in the future.
FACTORY SERVICE
Our professional Service Department located in New York supports one of the best equipment warranties in the industry. We carry ample parts stock for Islandaire,Ice Cap,McQuay,Singer,AAF machines as well as other manufacturers units. Our service professionals are dedicated to customer satisfaction and are committed to maximizing the life of your equipment through our preventive maintenance agreements and service plans tailored to your apartment or building.
ADVANTAGES
Semi-Custom options

Available on chassis, controls, sleeves, cabinets and coils

Superior Quality

Welded construction Fully painted chassis

Smaller Footprint:

Compact 36' wall sleeve design
Minimal projection into the room

Innovation:

Modern features and controls Industry leading sound performance (Operating & Transmission)

Projects Management/Support

Local sleeve, cabinet and coil manufacturing Local project management and factory service